RESULTS FOR 9 JUNE SESSION HAVE BEEN        RELEASED
CONGRATULATIONS AND COMPLIMENTS!
YOUR DIPLOMA WILL BE AVAILABLE FROM 4TH SEPTEMBER
30th MAY EXAM SESSION - B1 -   C1 - B2
RESULTS FOR 30TH MAY EXAM SESSION HAVE BEEN RELEASED.
CONGRATULATIONS AND COMPLIMENTS TO ALL CANDIDATES!
YOUR DIPLOMAS WILL BE AVAILABLE FOR COLLECTION FROM
1ST SEPTEMBER
HAVE A GREAT SUMMER! SEE YOU ALL IN SEPTEMBER!!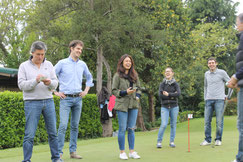 Lecture/ Debate about Global Warming has been canceled for tomorrow due to personal problems of our guest, we are very sorry!
It was a very busy month in our school. With social activities: Literature lectures, Photography lecture, Life in India cultural evening, Golf Day...
Stay tuned for our celebration for the End of the School Year with horse riding ALL IN ENGLISH!!!In the meantime you can check on our Facebook page photo gallery from the Golf Day
25th ANNIVERSARY - SPECIAL LIMITED OFFER
IN VIA DON BOSCO 21 - IN PIAZZA A MOGLIANO
WE ARE ALWAYS OPEN!
LEARN ENGLISH AT ONLY 10,00 EUROS PER HOUR!

JOIN OUR NEW COURSES!
- LIMITED NUMBER OF STUDENTS - 6 PER CLASS!

- MODULAR DIVISION ACCORDING TO LEVEL

- FLEXIBLE TIME

- CERTIFICATION EXAM PREPARATION A1 TO C2

- SPECIAL BUSINESS COURSES

- TEFL COURSE FOR TEACHERS OF ENGLISH!!

- ENGLISH CLUB FREE MEMBERSHIP

- IELTS PREPARATION CENTRE

NEW !!!! - TEFL COURSES FOR TEACHERS - NEW!!!!
LIMITED NUMBER OF PLACES AVAILABLE!
JOIN NOW!
JUNE EXAM SESSION A2- B1 -B2 - C1 -ENGLISH FOR BUSINESS
ALL CANDIDATES HAVE SUCCESSFULLY PASSED WITH DISTICTION THEIR EXAM!
CONGRATULATIONS TO YOU ALL!
LET'S KEEP GOING! THE NEXT STEP IS WAITING FOR YOU!
NEW TEFL COURSES FOR TEACHERS AVAILABLE SOON!
GET QUALIFIED!
NEW!!!! - COURSES OF RUSSIAN LANGUAGE - NEW!!!
COURSE OF RUSSIAN FOR ADULTS AND CHILDREN
JOIN OUR NEW EXCLUSIVE RUSSIAN COURSES

-MOTHER TONGUE EXPERIENCED TEACHERS

-FLEXIBLE TIME
-READING CLUB
-TRIPS TO RUSSIA

For latest NEWS and more info.
  Surf also our IRISH NEWS ON
LANGUAGE CERTIFICATIONS : 2013 SESSIONS
Prossima Sessione d'esame finalizzata al conseguimento della Certificazione Linguistica livelo B2 per docenti TFA:
  18 NOVEMBRE 2013  - ISCRIZIONI ENTRO 30 SETTEMBRE 2013
Ente Certificatore LCCI-Eb (London Chamber of Commerce Examination Board)
Riconosciuto dal British Council e Accreditato MIUR.
EFB- ENGLISH FOR BUSINESS - Business English certification LIVELLI 1 - 2 - 3

Livelli A2 - B1-  B2 - C1
   NOVEMBRE 2013  -ISCRIZIONI TASSATIVAMENTE ENTRO 30 SETTEMBRE  2013

CERTIFICAZIONE LINGUISTICA PER DOCENTI CEFR B2
NEW!
TEFL - TEACHING ENGLISH AS A FOREIGN LANGUAGE
COURSES FOR NATIVE SPEAKERS AND EXPERIENCED ENGLISH TEACHERS (MINIMUM 3 YEARS EXPERIENCE) CTTEFL - LEVEL 5 DIPLOMA
10 PLACES AVAILABLE ONLY!
SELEZIONI  APERTE - SEND YOUR CV NOW!
ELENCO ENTI CERTIFICATORI AUTORIZZATI MIUR
ELENCO ENTI CERTIFICATORI - MIUR
ART. 4 ENTI CERTIFICATORI
MIURelenco Enti Certificatori autorizzat
Adobe Acrobat Document 307.8 KB
SURF OUR NEW SITE!!
TEFL COURSES FOR TEACHERS OF ENGLISH AVAILABLE SOON.
TRAVEL THE WORLD FREE!   GET QUALIFIED TO TEACH ENGLISH ALL OVER THE WORLD!
CERTIFICAZIONI LINGUA INGLESE PER DOCENTI